Coast Inn of the North
770 Brunswick St,

Prince George,
V2L 2C2
T. (250) 277-4102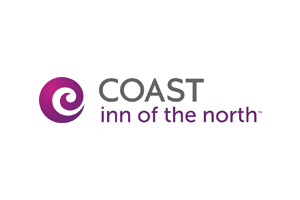 About Us
Refreshingly local.
Some hotel brands work hard to create cookie-cutter facilities that make you forget which city you're in. That's not us. We embrace the wonderful, unique personalities of each of our properties and locations throughout the U.S. and Canada.
Every one of our hotels is special – and why would we want to change that? What every one of them has in common is an exceptional value, full-service experience and a refreshingly local approach. And, of course, a commitment to delighting our guests.
Along with full-service dining and more, there are certain amenities that come standard at all Coast Hotels. For starters, all guests receive complimentary Wi-Fi. Add to that our genuine, friendly staff, green meetings and a range of packages and promotions for leisure travelers.
Company Profile
Coast Hotels offers properties throughout British Columbia, Alberta, Northwest Territories, the Yukon, Washington, Oregon, California, and Alaska. We own, manage and franchise properties in cities large and small, as well as resort destinations. As one of North America's growing – and Canada's largest – hotel brands, we owe our continued expansion to our commitment to exceptional service, prime locations, value, and guest satisfaction. Coast Hotels is headquartered in Vancouver, British Columbia, with our US office located in Seattle, WA. Learn more about our individual hotels on their property pages.
Our philosophy is simple: We take care of our ambassadors so that they can take care of our guests. This simple concept allows our brand and each Coast hotel to be successful.
The Coast Hotels Experience
Coast Hotels recruits our ambassadors based on their skills as well as their passion for outstanding guest service. To us, hiring top-notch people is just good business. And so is helping them grow and thrive.
As an employer, it isn't just about how we run our business, but also how we can impact our ambassadors' lives. That's why we provide a number of training programs to help grow and develop everyone who works at Coast. These programs include:
Targeted Orientation
Role Specific Training
Specialized Coast Customer Service Training
Personal Professional Development & Career Planning
Other benefits include: extended health and dental plans, paid training, discounted hotel rates for staff and their friends and family, recognition and service programs, uniforms, social events and a chance to give back through volunteering and fundraising initiatives.
Leadership & Accountability
At Coast, we believe in leadership and accountability. We believe everyone has the opportunity to show leadership in their role, and that leadership is integral to our success. We help our leaders measure their individual success, and work to develop up-and-coming leaders to enable them to grow within the company, through our leadership framework.
Corporate Responsibility
At Coast Hotels, it's important to us to support the communities where we live, work and play – and so we offer programs that support our ambassadors volunteering for charities and events on a local, regional and national level.
Coast cares about protecting our environment too. Learn about our Coast Green practices that help protect our environment and our eCoast Meetings program that, together, strive to make our hotels, as well as the meetings that take place within them, as environmentally friendly as possible.
Current Job Postings
| Job Title | Status | Date Posted | Expiry Date |
| --- | --- | --- | --- |
//=get_template_directory_uri();?> //=get_template_directory_uri();?> //=get_template_directory_uri();?> //=get_template_directory_uri();?> //=get_template_directory_uri();?>