Lead Guide and Ski Guides
Northern Escape Heli-Skiing
Professional

Full Time |
Contract/Temporary

4732 Lazelle Ave Terrace BC
3 position available
Accessible Employer: Yes
Open to International applicants with valid Canadian Work permits: Yes
Apply Now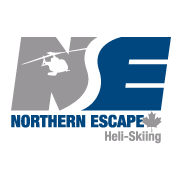 Job Description
Job descriptionCompany: True North Heli-Skiing LTD DBA Northern Escape Heli Skiing LTD https://www.neheliskiing.com
Position: Heli Skiing Lead Guide and Heli Ski Guide
Reports To: Guiding Operations Manager
Positions Available: 3 Location: Terrace, British Columbia
Terms: Seasonal Full Time – approx. Nov 15-April 21
Company Overview: Northern Escape Heli Skiing is a boutique Heli Skiing operation based in Terrace, BC. We provide world-class heliskiing experiences from two remote lodges. Our guests join us from around the world for a safe and memorable skiing experience both on and off the mountains. Northern Escape Heli Skiing operates in the North Coast Ranges of BC, boasting one of the longest seasons in one of the world's deepest and most reliable snowpack's. Famous for its massive Alpine and vast Glaciated terrain, Northern Escape Skiing's terrain also includes amazing skiing amongst its old growth forests. We ski and ride in small, intimate, groups from powerful Koala helicopters. Our program is supported by a dedicated Snow-Safety team and support helicopter, an on-sight explosives magazine and snow avalanche blasting program, and our innovative Snowcat Backup Cat skiing area.
Job Description for the Lead Guide: As the Lead Guide at each lodge, you are responsible for the customer experience from the guest's arrival to their departure. You are responsible for the safety of both the guests and staff each week. The Lead Guide will lead a team of guides in providing a safe, enjoyable and efficient heli skiing holiday for our guests. In addition to guiding daily, you will be responsible to coordinate with the Snow Safety Team and the Snowcat Backup team operationally as well as the Lodge team for customer service. Reporting directly to the Guiding Operations Manager, the Lead Guide will be responsible for the safe and efficient operation of both the helicopters and snowcats in all aspects of the business. You will lead the twice daily guides meetings and provide daily operational reporting including incidents.
Job Description for Heli Ski Guide: The Ski Guide is responsible for assisting the Lead Guide with the day-to-day guest experience, starting with the safety of all guests and staff at the lodge.
Customer Service: The Ski Guide will greet the guests and be present and available in all aspects of the guest experience. They will attend breakfast, après ski and dinners. The Ski Guide will assist in providing guest information and setting guest expectations through daily morning conditions updates as well as check-in and checkout speeches.
Guides meetings: The Ski Guides will attend all guides meeting and provide input. The Ski Guides will assist with all record keeping under the direction of the Lead Guides.
Heliskiing: The second and third Guides in each helicopter are responsible for the safety of their clients in the mountains and around the helicopter. They will follow the Lead Guide and will generally use the same landings and pick-ups as, or as dictated by, the Lead Guide. They will assist the Lead Guides and the Guiding Operations Manager in the daily operations and record keeping as required.
Other duties: The fast-paced environment of heliskiing means all employees may be called upon to perform tasks outside the job description and in any department where assistance may be required. A Team attitude is a must for all staff.
Desired Qualities: – A strong Passion for Skiing
– Dedication to Customer Service – Demonstrates a high level of attention to detail. – Self-Starter with a strong work ethic. –
Communicates in an effective and timely manner and is open to receiving constructive feedback. – A Team Leader and a Team Player. – Willingness to work long days and flexible to assist in other roles as required
Responsibilities & Qualifications
Desired Experience: – Lead Guide: Minimum of 5 years Helicopter Lead Guide Experience
Ski Guide: Minimum of 2 years helicopter guide experience
– Demonstrable experience leading a team of professionals
– Past Lodge Management Experience and assest
– Experience with Snow Avalanche Blasting
Qualifications: – IFMGA, ACMG Ski Guide or equivalent, CSGA level 3.
– 80-hour first aid course
– CAA operations level 2 or equivalent
– Class 4 Drivers license an asset
– WorkSafe BC Snow Avalanche Blasting ticket (preferred)
– Speaks a second Language (preferred)
Salary/Wage
$450 - $550 per day DOE and Position
Other Perks/Benefits
Northern Escape Heli-Skiing will provide accommodation, food and transportation to and from Terrace
Job Application Process
Northern Escape Heli-Skiing will provide accommodation and transportation costs within Canada to and from Terrace, BC for the season to the right candidate.Please submit the following via the Apply Now button below Cover Letter and Resume. Please no drop-ins or phone calls.

Apply Now

//=get_template_directory_uri();?> //=get_template_directory_uri();?> //=get_template_directory_uri();?> //=get_template_directory_uri();?> //=get_template_directory_uri();?>