Resort Chef
Klahoose Wilderness Resort
Professional
Klahoose Wilderness Resort, Desolation Sound, B.C.
2 position available
Assessible Employer: No
Open to International applicants with valid Canadian Work permits: No
Apply Now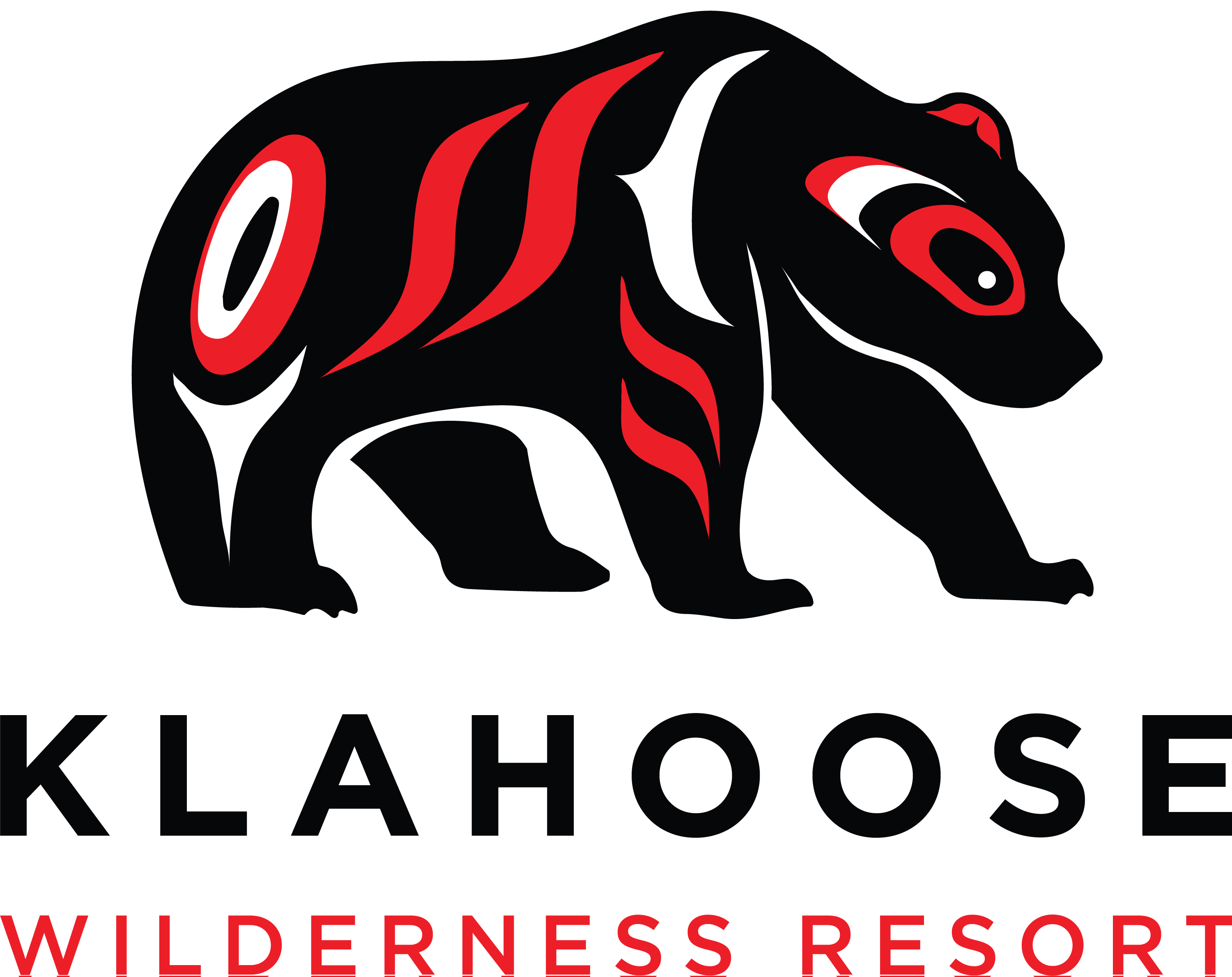 Job Description
Reporting to the Resort Manager, the Chef will be a valuable contributor to ensuring high standards of guest satisfaction. Working collaboratively with other departments and diverse work groups is essential for success in the role and providing extraordinary guest experiences. The chef will have passion and drive with demonstrated proven culinary excellence in creating exceptional menus in a resort atmosphere. The Chef is a hands-on leader with a strong desire to support and mentor other culinary team members and promotes and fosters efficient and timely professional communication with front of house and other departments in the pursuit of delivering an outstanding culinary experience to our guests.
Located on the traditional lands of the toq qaymɩxʷ (Klahoose) People and within the heart of Desolation Sound, the Klahoose Wilderness Resort, is British Columbia's award winning premiere Indigenous cultural experience, which opened its doors in 2021. The resort is located about 45 minutes by boat from Lund, BC or about 60 minutes seaplane flight from Vancouver.
Open seasonally to our guests from May to October, the resort features four well-appointed lodge rooms and three cabins with more space for family and friends. The great room and dining room have breathtaking views. All-inclusive guest packages offer an authentic, eco-resort experience, reflecting the Klahoose traditional values with immersive and respectful exploration of the surrounding wilderness and wildlife. Guest activities include kayaking, stand up paddle board, ocean swimming, wood-fire sauna, wildlife and cultural boat tours, grizzly bear viewing, and Indigenous culture activities.
Klahoose Wilderness Resort is proudly Klahoose First Nation owned and managed by Qathen Xwegus Management Corporation (QXMC). QXMC is the Klahoose First Nation business development corporation.
Responsibilities & Qualifications
KEY ACCOUNTABILITIES
Ensures a high standard of quality and flexibility to accommodate dietary needs for guests and staff:
• Menu development. Menus are part of an all-inclusive offering and should feature locally sourced healthy ingredients highlighting west coast fare and positioned to a high-end clientele.
• Food costing and budgeting.
• Food safety planning with focus on safety and sanitation
• Staffing / Scheduling and efficient use of resources
• Ordering / Inventory control and vendor relationships
A Chef fostering the cohesiveness of the team by:
• Ensuring open lines of professional communication with all staff and resort guests.
• Ensuring the culinary department is well organized.
• Building out an efficient schedule around business volumes to ensure staffing resources are on when needed and off when not, managing efficient scheduling in a remote setting.
• Participating in individual touch bases (ITBs), group touch bases (GTBs), and skill-building sessions where appropriate.
• Establishing performance objectives/goals with culinary team and management, reviewing progress throughout the year, and completing formal performance metrics for the team.
• Constantly monitoring safety protocols to ensure compliance.
Thrives in a "guest focused and driven" department by:
• Understanding guest expectations, preferences, allergies, and dietary restrictions in advance of arrival and planning accordingly.
• Comfortable with speaking to guests where applicable about the menu, answering questions about menu or ingredients and ensuring menu execution is flawless.
• Works with the Resort Manager to clearly establish standards, policies, and procedures, leading by example.
• Collaborating with guest feedback ensuring corrective measures are taken where needed and when needed.
• Alerting management to additional supplies required, equipment issues or other challenges that may exist.
Ensures compliance with all resort and legislative requirements, guidelines, and laws by:
• Ensuring compliance with Vancouver Coastal Health food safety standards and being an ambassador for safety and sanitation.
• Creates Food Safety plans as part of the menu development process.
• Striving to uphold a safe working environment and is Health and Safety conscious and actively involved in maintaining and improving a safe work environment.
 
Consciously desires to improve the resort operations and its processes by:
• Promptly aiding in Emergency protocol.
• Maintaining organizational safety standards.
• Continually improving our impact on the environment and greening of operations through support of EMS protocols.
• Actively demonstrating the resort's values and expectations for conduct.
• Performs additional duties of a similar nature or level as required.
Education and Experience
• Foundations of workplace safety (includes WHIMS)
• Foodsafe Level 2
• Serving it Right
• 5 years' applicable experience in a high-end resort or hotel as Chef
• A collaborative and effective communicator with ability to thrive in diverse work groups.
• Previous experience with inventory control, scheduling, budget, and forecasting, and leads by example with goal of sharing knowledge and skills with the team.
• Experience with indigenous based cuisine considered an asset.
• Dedicated to training and development of culinary team.
• Remote resort operations an asset
Skills:
• Excellent communication and people skills.
• Effective decision making and critical thinking skills.
• Demonstrated ability to work within a team: consensus building, negotiation, influencing, and conflict resolution.
• Efficient time management skills, thriving in an environment of continually changing information and the ability to stay focused and calm under pressure.
• Career Driven and Initiative-taking with a cheerful outlook and a consistent display of professionalism.
• Innovative, meticulous, and quality conscious. Each plate with a purpose.
• Demonstrated ability to foster and build professional relationships with staff, guests, and vendors.
• Flexible in terms of requests, schedules, and ability to assist where and when required.
• Well organized and efficient to ensure a well-run culinary environment. Continually auditing efficiencies and better ways of doing business.
• Creative in menu planning and skilled at building and teaching menus.
• Attention to detail is essential for success in this role.
 
Working Conditions:
• Working in a kitchen environment.
• Frequent twisting, crouching, and stooping, handling, and grasping various boxes or tools.
• Remote Resort or Hospitality work
Salary/Wage
Competitive wages
Recommended Training
BSAFE - BC Safety Assured For Everyone, Foundations of Workplace Safety (includes WHMIS), Serving It Right
Job Application Process
If your experience matches the leadership qualities we are looking for, we would like to hear from you. To apply please send a letter and resume to team@klahooseresort.com

Apply Now

//=get_template_directory_uri();?> //=get_template_directory_uri();?> //=get_template_directory_uri();?> //=get_template_directory_uri();?> //=get_template_directory_uri();?>