BC's Tourism and Hospitality Labour Recovery Framework
Tourism and hospitality labour recovery – and resiliency – is integral to B.C.'s long-term economic strategy. The Province's Strategic Framework for Tourism recognizes the role our industry plays in community enhancement, sustainable growth, and climate action. The Province's goal to rebuild our industry's revenues by 2024 will, put simply, be powered by people.
People also power our Labour Recovery Framework. Since fall 2021, go2HR has led the Labour Recovery Framework Industry Engagement Working Group, a tight-knit team of industry leaders from associations, destination management organizations and provincial ministries.
Objective
Job one was building a single framework for labour recovery that, if implemented, could help build back the labour needed for our industry. The framework includes 6 prioritized pillars, each with a set of new initiatives. The framework is grounded in research and industry experience and aligned with provincial and federal priorities.
With the framework built, we set out to artfully implement key initiatives. Arguably one of the GOAT, Pablo Picasso said that "action is the foundational key to all success." We set out to do what we could with the capacity and resources we could find.
Today, we have key partners in place that are supporting implementation of Pillars 1, 2 and 4.
Pillar 1 is focused on attracting, maintaining, and retaining people that work in tourism and hospitality. Pillar 2 is communicating the value of our industry as a place for people to work – and as a foundational contributor to B.C.'s economic strategy.
With funding from PacificEconomic Development Canada, we are launching a recruitment campaign targeted at key audiences we hope will join our industry in greater numbers – youth, newcomers, and Indigenous Peoples. This funding is also supporting the development of a career awareness project aimed at showcasing to high school students the wealth of career opportunities in tourism and hospitality.
Pillar 4 is focused on supporting employers to implement best-in-class business practices. With funding from the Ministry of Tourism, Arts, Culture and Sport, go2HR has established a network of HR consultants across the province. On the ground in each tourism economic region, consultants offer free human resources advisory services to support best practices in recruitment, retention, benefits, health and safety and employment legislation compliance.
Stay tuned as we continue our progress to implement our Labour Recovery Framework.
The Six Pillars of the Labour Recovery Framework
Experienced leaders formed an Industry Engagement Working Group to agree on areas of focus, with priorities and initiatives for each pillar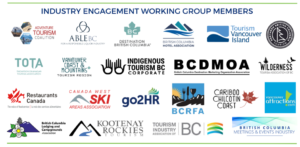 1
Grow Labour Supply
Maintain and retain people that work in tourism and hospitality and remove barriers willing to join our industry
2
Renew Our
Value
Communicate the value of our industry as a place to work. and as a foundational contributor to BC's economic stategy
3
Engage On Housing
Share knowledge that informs an understanding of how housing availability and affordability affects our labour supply
4
Build Back Stronger
Fuel longer-term change to industry business practices through human resources and workforce development advisory services
5
Future-Proof Skills Development
Improve access and applicability of industry training, identity emerging trining and equip employers with skills development focused on our industry's future
6
Transform with Technology
Find, share and pilot technology to help our industry invest in people and products
Labour Recovery Framework (LRF) Initiatives
Industry Engagement Working Group prioritized a set of new initiatives for each pillar – all require capacity and investment
Summary
Together with representatives from industry associations and regional destination management organizations, go2HR created an Industry Engagement Working Group to build a labour recovery framework.
Download PDF