Welcome to the Safer Spaces!
This is where you can find information, resources, statistics and more related to workplace sexual harassment. Check back regularly, as we update the page.
What is Safer Spaces?
Safer Spaces is an initiative developed by go2HR with support from Justice Canada to raise awareness about and help prevent sexual harassment in tourism and hospitality workplaces. The following principles lead our work:
Promoting diversity, inclusion, sensitivity and respect
Applying a survivor-centered and trauma-informed lens
Avoiding the duplication of efforts in this space, instead promoting the work of others
Ensuring that our output materials are accessible to the industry at large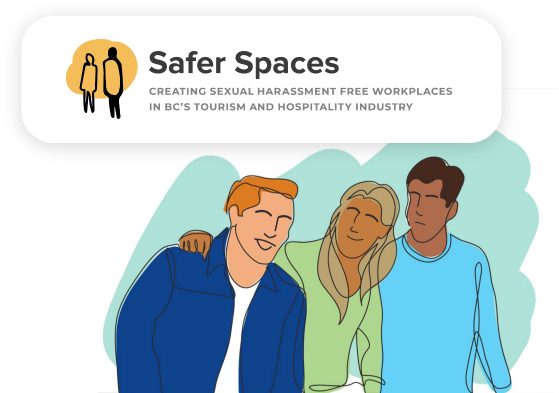 The Safer Spaces Initiative has two foundational components:

Our Sexual Harassment
Course for Leaders
Safer Spaces for Employers and Supervisors is the first in a series of two Safer Spaces online courses that have been developed by go2HR. Leaders are fundamental to creating sexual harassment free workplaces because they establish the safety culture and set the tone. We invite B.C.'s employers and supervisors to take the lead by completing the Safer Spaces course and creating their own safer workplaces.

Online Sexual Harassment
Course for Workers
Sexual harassment is a pervasive problem in the tourism industry, affecting employees and guests alike. We're proud to offer a comprehensive sexual harassment training course designed for the tourism industry.
Investing in sexual harassment training for your tourism industry employees is not only the right thing to do but also makes good business sense. Creating a safe and respectful workplace can attract and retain top talent, increase employee morale and productivity, and improve guest satisfaction.
Safer Spaces hopes to challenge and change our industry by providing easy access to resources and training on the topic of sexual harassment. In doing so, we aim to raise awareness about the topic and also equip BC's tourism and hospitality workforce with practical knowledge and tools to help prevent it.
How to get involved
Save the Safer Spaces homepage to your favourites and check back regularly, as we continue to add new content
Challenge your management and leadership teams to take the Safer Spaces course for employers and supervisors
Ask your employees to complete the Safer Spaces course for workers and incorporate this training into your future onboarding programs for new hires
Register for our newsletters, which include a regular feature on the Safer Spaces initiative
Help us spread the word about Safer Spaces - tell your contacts and colleagues in BC's tourism and hospitality industry about the initiative and ask them to get involved!
One in ten women experience gender-based discrimination at work
Inappropriate sexualized behaviour more common for women in occupations historically held by men
Many women do not speak out about their experiences for fear of negative impact on their career
Women and men in service jobs experience high rates of inappropriate sexualized behaviours
One in three women targeted with sexually explicit materials at work says someone in authority was responsible
In 2020, 25% of women and 17% of men experienced sexual misconduct in their workplace
Over 25% of employees did not feel like their employer had given them information on identifying, reporting, or accessing resources related to sexual harassment